Oculus is an unusual and uniquely important book, and defies easy categorization. Equal parts philosophical treatise and artist book, Oculus asks profound questions about how we find meaning in the world and how images give shape to memory and our lives. Viewers willing to spend time with this powerful work will be greatly rewarded." --Adam Bell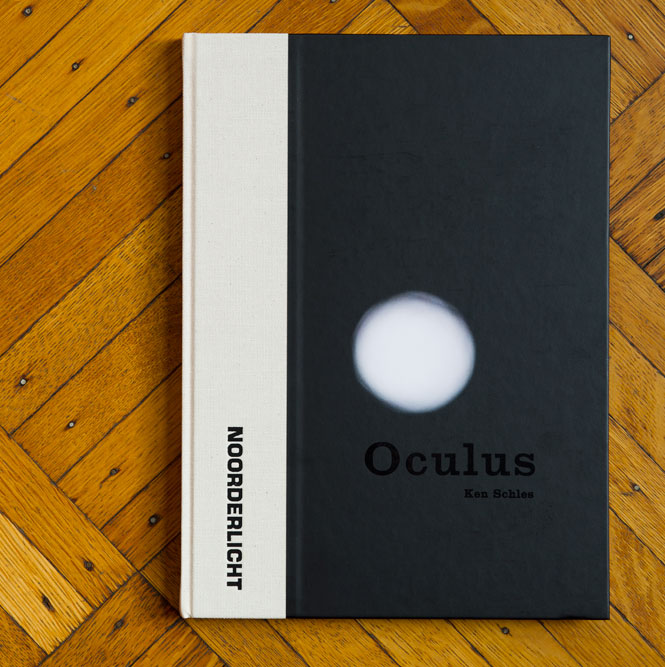 Ken Schles' fourth title, Oculus, is a philosophical exploration of memory and perception, a poetic pilgrimage that thoughtfully weaves its analysis of how images influence and define our understanding of that around us. Like Schles' previous titles, Oculus is a demanding, personal and beautifully emotive work that not only compels multiple visits, but also leaves lingering questions long after the turn of the last page. Rarely does the text and imagery of a photobook unite in such an evocative and deeply effecting manner. Oculus' exquisitely designed spreads wonderfully illustrate its innovative, challenging, and deeply thought-provoking qualities that will ensure it will become a much collected and greatly treasured future classic. — Claxton Projects

We infuse the world we encounter with meaning, with social and symbolic significance based on the value we place upon representations we share. This, perhaps, is the irony of our conceptualizations: We make and share images [representations] so that we may know the world. Oculus takes you on a philosophic journey that points beyond the shadow-play of images. It is a meditation on the nature of perception and existence in the gray light of this world. Oculus, a photographic book about images, memory, and the metaphor of light.

(Please note that this title is currently out of print but copies can be obtained through this web site or through Amazon.)
"...quite simply it's one of the best new photobooks I have seen in years: a towering accomplishment filled with aesthetic beauty and emotional depth. I can assure you this book will be a classic. ...it gave me chills from beginning to end." --Harper Levine, Harper's Books (Jury Selection Committee Member for Le Prix du Livre Paris Photo 2011)

A Photo-Eye Photobook of the year. "A poignant meditation on images and memory, Schles' book is as evocative as it is beautiful."

"Oculus is the rare book where not only are the images inseparable from the writing, but where the writing is so good. Like his previous book, A New History of Photography, a thoughtful and well-written essay, complete with endnotes and a postscript, anchors the work in Oculus. The design and printing of the book are also excellent. Given the importance of the text, it is nice to see the balance between image and text handled so well." --Adam Bell

Guide to Unique Photography (Dutch) Recommended: "Schles invokes Nabokov's idea that memories are the brief separation between the soul's abyss before life, and after death. If these images are a collection of Schles's memories, he's shared them with us, not because we can ever touch his memories, or see them fully, or even understand them; but because we are human, and we can project our own meanings, our own memories."

"an absolutely drop dead gorgeous twelve inch by nine inch, ninety-six page book-fetishist's delight" -- converyor magazine blog

A Photo Book Club (UK) book of the year two years running. See "B*@t of 2011" and "B*@t of 2012."

The Photobookstore Blog UK by the "other" Martin Amis puts it on his "favourite photo books of 2011 (with video previews)" list too: "A totally original dreamy work.."

"The photographs are magnificent: they are abstract, personal, dreamy, meditative." and "It is a powerful book: you close it only to open again and learn more....Oculus [is] a rewarding intellectual journey." -- Phot(o)lia

"Oculus is a refreshing change... brilliant... innovative..." -- Douglas Stockdale, The PhotoBook

Oculus is "a unique book that will speak to Every Man at every level...beautifully crafted ... deeply satisfying ...This fourth book marks Ken Schles as a true master of his art and culture maker of the highest caliber." --Melanie Light in a round-up of significant books of the season by Le Journal de la Photographie

"Ken Schles' Oculus might send chills down your spine, if you let it." - Daylight Magazine



Click on the book cover or the links at left to see and read more about this title.
Oculus, a photographic book about images, memory, and the metaphor of light.
96 pages; 35 plates.
Published by Noorderlicht.